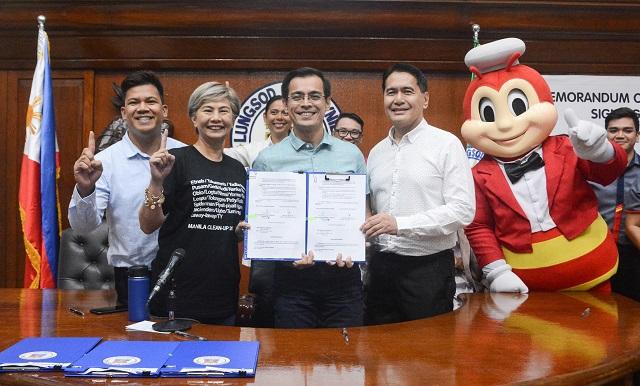 Manila government and Jollibee sign agreement on employment for older people and people with disabilities
The city government of Manila and fast food giant Jollibee Foods Corp. (JFC) on Friday reached a memorandum of understanding to provide jobs for the elderly and people with disabilities.
As part of the MOA, JFC will open its facilities to accommodate elderly and disabled people qualified for temporary employment.
Manila's agreement with the fast food operator is in line with its "policy of providing temporary employment to skilled older people and people with disabilities in order to reintegrate them as productive members of society."
JFC will hire at least three candidates qualified under the policy: two seniors and one person with a disability.
Seniors are assigned to work for up to four hours a day in shifts from 8 a.m. to 12 p.m. or from 1 p.m. to 5 p.m. five days a week.
For people with disabilities, they can be assigned to a workstation applied to regular employees of JFC teams but not exceeding eight hours per day.
The duration of temporary employment cannot exceed a period of six months.
Elderly and qualified persons with disabilities should be stationed in service and / or customer areas only and should perform the following duties as customer relations staff:
Assists customers by providing product information and responding to other related inquiries
Help take orders from customers who are already seated in the dining room or refer the catering team for a second transaction order and possible suggestive selling
Assists the customer by following up on pending orders
Helps present orders to customers at Drive-Thru Window 2
Acts as party ushers for Jollibee Kiddie Party
In charge of distributing and collecting customer surveys
Helps ensure cleanliness standards in the service area by identifying the surface to be cleaned
Helps wipe down tables and prepare it for incoming customers
Qualified older people and people with disabilities are entitled to compensation equal to the current minimum wage and must be adjusted as often as new minimum wage rates are implemented.
They are also entitled to receive proportional salary and service premiums at the 13th month and must be included in the group medical insurance to be guaranteed by the JFC.
To be eligible for the temporary employment program, seniors must be 60 years of age and over; pass physical, medical and laboratory examinations and be certified as fit for duty.
For people with disabilities, the person must be deaf and mute (subject to later inclusion of other people with disabilities) and must pass physical, medical and laboratory examinations and be certified as fit for duty. —Ted Cordero / LBG, GMA News