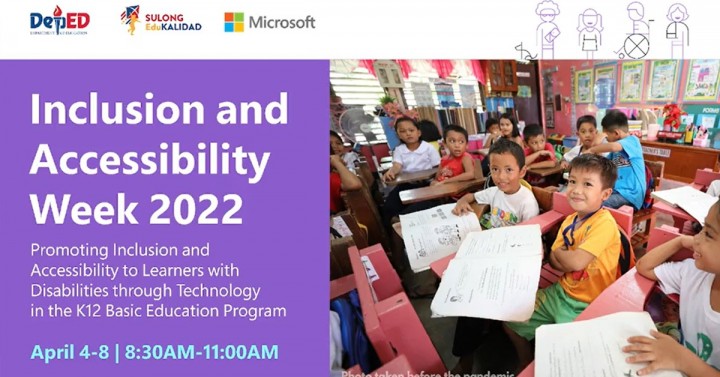 DepEd, Microsoft notes tech's role in inclusivity
MANILA – The Department of Education (DepEd), in partnership with Microsoft Corp., pledged on Monday to promote inclusive and accessible education for learners with disabilities (LWD) through the use of technology.
In a virtual celebration, the DepEd kicked off a week-long celebration on "Inclusion and Accessibility 2022" with a focus on maximizing digital modalities to advocate for the rights of learners, including those with special needs, to equitable education.
"Learners with disabilities are part of society and have the same rights as other people to take their place in society, their right should not be seen as state social services," said Diosdado San Antonio, under -DepEd program and instruction secretary.
San Antonio stressed the need to proactively commit to providing equal access to more opportunity, despite various challenges.
"The reason it can be so difficult to fully advance implementation is that there is a much larger invisible part below the waterline, that invisible part is made up of interests, beliefs, motivations and fears of those involved in education, teachers, and the communities included," he noted.
Microsoft-Philippines public sector director Joanna Rodriguez said that while the 2019 coronavirus disease pandemic has posed a challenge to the government's campaign for inclusiveness, several digital breakthroughs have been introduced to help promote it in a hybrid learning configuration.
Rodriguez mentioned features specially designed for the benefit of LWDs, which are freely available on different devices.
These include Immersive Readers, Dark Mode (to reduce eye strain), Live PowerPoint (allows access and sharing of content), Accessibility Checker, Dictation (use of voice to create documents, emails, presentations and other content), the designer (to polish document and work for the document), reading progress on the free tool powered by artificial intelligence, among others.
"The disruption to face-to-face learning caused by the pandemic affecting millions of our learners has particularly tested the special education sector. But we at Microsoft remain very optimistic, as we have seen in the face of unprecedented circumstances, many useful, vital and lasting innovations that our Philippine government agencies have applied with the use of technology over the past two years," she said.
"Microsoft's assistive technologies and accessibility features built into Office 365 are available to anyone who needs tools for people with vision, hearing, neurodiversity, learning mobility and even mental health," she added. (NAP)