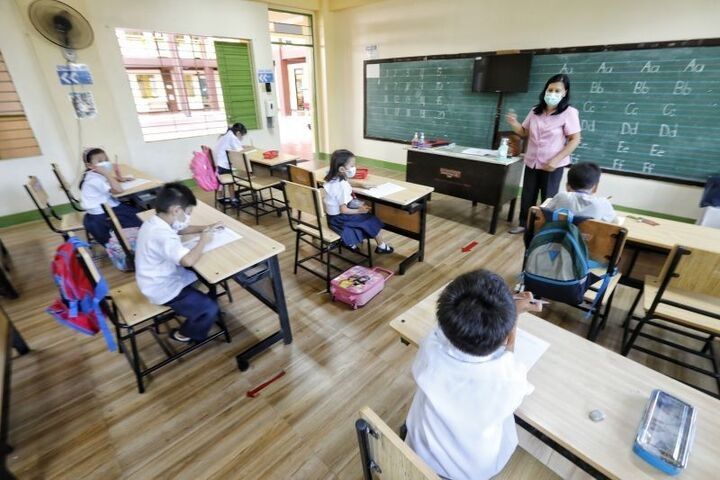 Business groups urge government to tackle malnutrition to improve education outcomes
MANILA, Philippines — Private sector and business groups have called on the Marcos administration to address child undernutrition, which has led to underperforming students in schools.
At a forum co-led by Philippine Business for Education (PBEd), Philippine Business for Social Progress (PBSP) and Makati Business Club (MBC), business leaders sounded the alarm over how the COVID-19 pandemic and rising inflation could deepen poverty and lead to even more stunting, or when a child is small for their age.
"Child malnutrition caused by poverty leads to poor learning. Poor learning leads to poverty, and poverty leads to malnutrition. It's a vicious cycle that affects at least 26 million Filipinos. We have to stop it now," said PBEd President Chito Salazar.
In a joint statement from the groups, they urged government and the private sector to invest in nutrition and education, which would "increase human capital" and "enhance economic growth".
"For decades, our human capital has been neglected. One in three children or less suffers from stunted growth. Nine out of 10 learners are unable to achieve minimum reading skills," the groups said.
PBSP Executive Director Elvin Uy said the Philippines still faces significant challenges in achieving zero hunger, with the pandemic driving even more Filipinos into food insecurity at 59 million.
The Philippines also ranked 68th out of 116 countries in the world in 2021 with a high prevalence of hunger based on the Global Hunger Index, Uy added.
Similarly, Uy said that the Philippines' score of 0.52 on the Human Capital Index in 2020 means that in terms of productivity, every child born today would achieve only half of what they would have. been able to accomplish with a full education and full health.
A World Bank report 2021 shows that in three decades there has been little improvement in the prevalence of undernutrition in the Philippines, with one in three children under the age of five suffering from stunting based on 2019 data.
The same report shows that the country is among the 10 countries in the world with the highest number of stunted children.
Proposals
During the forum, groups presented strategies and proposals that would lead to better nutrition and education outcomes.
For nutrition, the groups proposed the following:
Develop accessible and free programs for mothers at risk that would target their nutritional needs during the first 1,000 days
Urge local governments to partner with the private sector to implement Philippines Nutrition Action Plan
Support vulnerable households by expanding economic opportunities and making nutritious food more accessible
Empowering farmers with climate-smart resources, technologies and services to improve yield, efficiency and resilience
For education, the groups proposed the following:
Ensuring students' access to quality education from pre-kindergarten to grade 3
Improve the quality of education so that students acquire all basic skills according to international standards
Use the goal of lifelong learning in workforce development, with industry and academia keeping each other abreast of needed skills
Make full use of private education to better complement service delivery
Strengthen the autonomy of schools and local communities while empowering them
Vice President and Education Secretary Sara Duterte has decided to hold full in-person classes by November.